Interview of Alex Barendregt - World Body painting Festival
Deutsch version. Version française, cliquez ici.
Do I need to introduce Alex? Is is the man who had the wonderful idea, back in 1998, to create a body painting event in the region of the lake of Millstatt. This idea has grown into what is the meeting point of all body painters, every year in Seeboden. We are eternally grateful to Alex for it. On top of that, he has the most nice and charming personality.
This interview is mainly illustrated with pictures of the first body painting festival, in 1998.
Question 1. Please introduce yourself by saying a few words about your origin (where were you born), what you have studied in school or university, and your professional activities. Since when do you live/work in Seeboden?

Alex: I was born in Austria, and raised there too, my father is Dutch and so I also have the Dutch nationality. My family was into tourism, and I choose to learn tourism. I completed the Academy of Tourism, and later I studied Tourism in the Klagenfurt University. Since 1998, I work as tourism manager in a tourist organization in Millstäter See, in the South of Austria.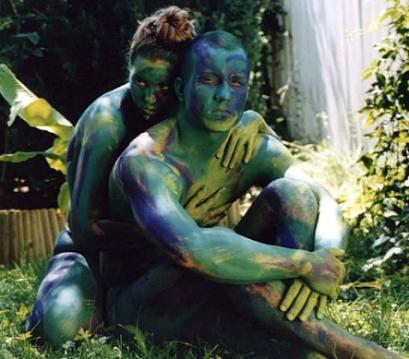 (Body painting by Norbert Dähn - 1998 Festival)
Question 2. When did you have the idea of a body painting festival? Please explain how the idea came, and what was the evolution of the idea. What was the goal?

Alex: In 1998, when I was very young, I managed to have a lead role in a tourist organization, I was responsible for the organization and projects. Events could be developed in many possible domains. I asked myself in which direction to go. I thought about the body painting theme following a contact with the Fine Arts Academy. I liked this theme and I organized the first body painting Festival in 1998. The festival was very limited, and afterwards, I did not want to continue, because money was lacking in all aspects. But the artists that had taken part were so pleased with the event that they pushed me to do it again. So things have started and it became, year after year, a larger and more professional event.
(Alex on stage with the winners - 2002 Festival)
Question 3: Why did you think of body painting? What did you know about body painting? Was it something that you were personnally interested in? Or did you choose body painting because it is very visual and you thought that it would attract a lot of people? Did you know personally a body painting artist before starting the festival?

Alex: Yes indeed, body painting is very visual and it attracts a lot of visitors. It is interesting for all kinds of people. In fact, I created this event because there was no such thing yet. I have searched a lot t could not find such a festival in the whole world, and so I thought that it had a lot of potential. The region of Millstäter See, where I had obtained this first work, has now something original, and the festival is a wonderful showcase. I have personally known two or three body painters at the time of the decision.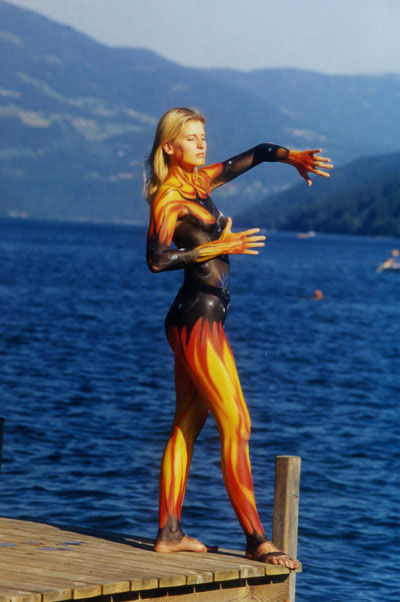 (Body painting by Roland Muthspiel- 1998 Festival)
Question 4: How did you organise the first festival? Was it easy or difficult? Was there some resistance from some people or organisations? What was the most difficult? How did you advertise and find the body painters for that first edition?

Alex: I think the first festival was the most difficult for me. I did everything on my own. I designed and distributed the advertisement, I took care of the logistics (tables, chairs, meals, power supply, water and all the rest…) It was not a competition yet, but the artists turned it into something nice, they presented their work to the audience, and they let their models spend time with the photographers. Through the artists, I made contact with more artists. After the first festival, I realized that it was not so easy to get in touch. Therefore, a little before the second festival, I put on line the first Web site www.bodypainting-festival.com. I created it myself, with the little I knew about HTML I organized the Festival home page. The hardest part was to collect money for the event, to find the contacts and to look for sponsors. At that time, sponsors considered the theme of body painting with reluctance, although the interest from the media for it was large.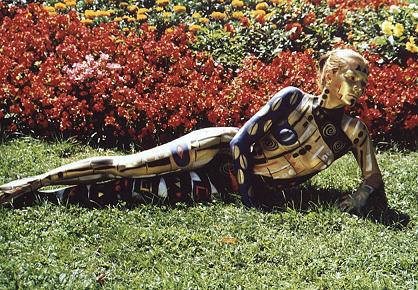 (Body painting by Kach - 1998 Festival)
Question 5: How was the first Festival? How was it called? Where did it take place? (already in Klauber Park or elsewhere). How long was it? How many body painters? How many visitors? Was there a competition with prizes? How many categories? Was it a big success or not? Did you hesitate to do it againthe next year? Or was it so obvious that you would continue?

Alex: The first event from 1998 was called « First Body painting Festival of Europe ». Nobody could guess that later, artists from all around the world would participate. So I have decided to call it now « World Body painting Festival » and the World Body painting Award is given for 3 categories. The first festival took two days. The first day, it was on an old square behind a convent in Millstatt, and on the second day, in a small park in Seeboden. Only on the 3rd year, we had to move to Klauber park, because everything was too small. We had no competition during the first festival, a competition was organized starting from the second edition. In the beginning there was only one category, and then I learnt something every year from the artists and more categories were created, so starting from the 4th edition, we had 3 categories. In the beginning, the festival took place in an open space and there was no admission fee. Passers-by would just come and admire the works. We had a small budget. When I am thinking about it again, I am amazed about what I could accomplish in that time. And that because of the enthusiasm of the artists that were present. Among them, there was a German artist : Norbert Dähn. He still participates and he has seen the festival grow. He is the only artist that is always present, and I would like to take this opportunity to cordially thank him..
(Body painting by Ferenc Hottya & Neuber - 1998 Festival)
Question 6: Do you have an interesting or funny anecdote about the first festival? Anything special?

Alex: The first festival was very amusing. Seeing the reactions of the visitors, who had never seen something like that, was already amusing. Furthermore, I had hired an artist who a did a show, a "brush-whip" show. The model was being painted with a whip and paint. The model(a volunteer)did not like it. A lot of visitors considered it as strange, abnormal, others found that macabre, or funny.
(Body painting by Prunster - 1998 Festival)
Question 7: Do you have special memories about one specific year? One festival that was particularly good or that was very difficult? Have you had bad weather during one festival?

Alex: Ohhh yes. The festival always takes place in open air, and is therefore dependant on the meteorological conditions. Every year, during one month before the festival, I fear a disaster. But we almost always had chance. One time, the opening of the festival had to be cancelled, because of rainy weather, but the other days for body painting were dry and sunny. One year was sunny, but very cold, and the models were freezing. In the end, each festival is for me such a wonderful memory and I would not want to miss it.
(Alex on stage for the closing speech - 2003 Festival)
Question 8: How many people work for the organisation of the festival before it, and how many during it? During the festival, how many people work as unpaid volunteers? Do you find sponsors easily? What do the sponsors provide? Does the festival make money in the end, or does it cost to the city?

Alex: As a matter of fact, during the year, I work alone on the festival. As the date gets closer, there are a few areas where some assistants can take over and help me. For the photo part, I have a very good friend Oswin Eder who is really committed. As the festival comes closer, I meet more often with my assistants. We are speaking of 6 people maximum. About 60 people work during the festival itself (assembly, disassembly, technical functions, stage, meals, press, admission, photo, video, jury, security, logistics,…). There are few unpaid volunteers. Sponsors are always difficult to find, especially now in the current state of the economy. Despite its 12.000 visitors, the festival still costs to the city, but less and less each year, and maybe we will reach the break-even in two or three years.
Question 9: How have the body painting festivals changed Seeboden and your life and work? What is your best memory? The moment you enjoy the most?

Alex: Seeboden and the region of Millstatter See are known thanks to the festival. For me, the festival is a daily work. Sometimes, it is a only a few mails, but there is more and more work. So body painting has become part of my daily life and work. It has been my greatest opportunity so far. I have become known as an organizer in the area and this is seen as a very positive thing.
The moment I enjoy the most is after the prize ceremony on stage. Then it is over and it went fine, everything seems easy to me, and I can finally drink a beer with many of my friends.
Question 10: Can you explain about the painted statues that are in the streets of Seeboden since last year? Who had the idea? Who has made them etc? How many are there?

Alex: Yes, I have achieved this project before the 2003 festival. Thirty statues were manufactured and painted with different themes. The idea was from me and Ernst Wieser was the one who painted them. Companies have participated in raising money and the statues have been painted according to the themes selected by them. Thanks to this realization, Seeboden is better known and more colourful.
Question 11: Do you have special plans or ideas for the future festivals?

Alex: Yes, the « European Body painting Festival » is history, long live the « World Body painting Festival ». We will grow bigger, better and with more diversity. I have many more projects, and there are more opportunities, with regard to the competition and to the program that goes on during the festival's week.
(Body painting by Markov - 1998 Festival)
Thank you Alex
We wish a bright future to you and the festival!